Table of Contents
Background Information regarding Agricultural Machinery
The invention of agricultural machinery brought forth a revolution in farming. Cyrus McCormick invented the first-ever agricultural equipment in 1831. He developed a reaper that permitted one man to cut 40 acres of crops in just a single day, thus completing five men's work.
Today, thousands of hectares of farms are cultivated by the use of modern farming machinery. The most commonly used machinery in agriculture includes movers, ploughs, tractors, sprayers, and planters. Among the many types of farm equipment, the tractor is the most important invention. They are multipurpose and can be used for tilling, ploughing, planting, harrowing, etc.
Not only does farm machinery save time, but it also boosts the quality of the product. Besides saving labour, they are so productive that they help produce large quantities to meet demand.
Agricultural Machine Manufacturing
Before the agricultural machinery manufacturing industry emerged in the 19th century, the most commonly used farming tools were the sickle and the plough. Later hand reapers were replaced by horse-drawn reapers. By the mid 19th century, portable steam power ploughing engines were invented.
Later in the late 19th century, the agricultural machine industry expanded with the invention of steam tractors. Today, there is so much development in the farm machinery industry that entire farms have been mechanized, reducing 75% of farms' labor force requirement.
Types of Agricultural Machinery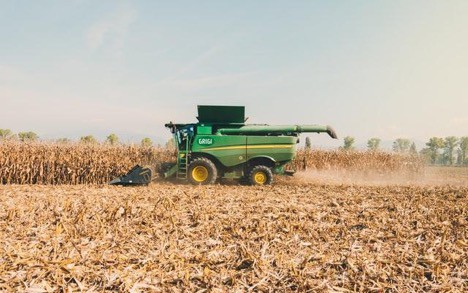 The agricultural machinery industry is a vast scale industry dealing with hundreds of farming equipment. Tractors are by far the most popular farming machinery. There are many kinds of tractors available today to suit your specific requirements. The most commonly used types are caterpillar tractors, two-wheeled tractors, utility tractors, earth-moving tractors, etc.
Aside from tractors, there are cultivators with dragged teeth to pierce the soil, chisel ploughs, rotary tillers or power tillers, many kinds of harrows, rollers, rotators, subsoiler, etc. For planting, trowels, planters, and seed drills are used. Then there is a whole line of irrigation equipment, including sprinkler systems, hydroponics, drip irrigation micro-spray heads, etc.
Several agricultural types of machinery are also used for sorting the produce, adding fertilizers, and harvesting.
Safety compliance of Agricultural Machinery
Agricultural machinery manufacturers ensure the following safety compliance:
Inclusion of a safety instructions manual, which includes detailed instructions for the safe operation of the equipment.
Certain adjustments are provided with all equipment like safety locks and approved ROPS (Roller protective structure).
Seat belts are provided with tractors.
To reduce side pain risk, backrest and side restraints are provided.
Guards are placed in PTO (Power Take Off).
Manufacturers provide implements to the mounting points.
Maintenance of Agricultural Machinery
It is very important to maintain and repair agricultural equipment as negligence could cause serious accidents. If tractors are jacked and wheels are removed without the manufacturers' secure procedures, major hazards can happen. Therefore, farm equipment should be regularly maintained at workshops to prevent on-field incidents.
Following maintenance routines should be strictly followed:
Ensure the exhaust system of farm equipment is in good condition.
Routinely check the clutches, brakes, and drives of your tractors.
Never forget to refuel.
Never remove place belts or pulleys while the equipment operates.
Keep equipment free of oil or service grease to avoid slips.
Never let equipment overheat.
Replacement Parts of Agricultural Machinery
Top-notch agricultural equipment manufacturing companies in China provide high-quality products with unbeatable service. High performance genuine agricultural machinery spare parts such as tractor spare parts are easily and readily available. You can count on the reliability of the design as these have a long operational life. Agricultural manufacturing companies offer the ultimate guarantee of spare parts. These spare parts can help keep farm equipment in top shape.
All kinds of agricultural machinery spare parts from baler knotters, harvesters, reapers to huge tractors are dependably available at reasonable prices from China. Even shipping is quick and easy, and the companies keep you posted regarding the phases of conveyance.
Agricultural Machine Manufacturing Industry of China
China is the world's leading supplier and manufacturer of agricultural machinery. According to statistics, China has an annual output value of more than 500 billion US$. the agricultural machinery produced in China is classified into 14 categories with 61 subcategories. China produces over 10,000 varieties of farming equipment from more than 2500 manufacturing companies.
The government of China has been supporting the agricultural equipment manufacturing companies to a great extent. The central government provided 120 billion of subsidies to the industry. China's agricultural machinery manufacturing industry mainly produced equipment used for the treatment of soil, fertilization, gardening, plant harvesting, crop farming, etc.
China'sChina's farming equipment industry has shown a steady increase due to rising export volumes and local demand for agricultural machinery. The government has also provided subsidies and constant support to the industry resulting in its growth.
Trade Shows of Agricultural Machinery in China
Trade Fairs of agricultural machinery are organized in China almost annually. These are organized to bring together members of the agricultural machinery manufacturers to demonstrate and showcase the latest advancements in their products. These trade fairs provide an opportunity for the industrialists to examine recent market trends and innovations.
Trade shows in China usually take place in large convention centers of the industrial hubs of China. They go on for several days. The most important trade shows of agricultural machinery that shouldn't be missed are:
China International Wisdom Agricultural Equipment and Technology Exhibition Beijing
Agricultural Facilities and Horticultural Materials Exhibition Beijing
Asia Forestry and Garden Machinery and Tools Fair Guangzhou
CIMAE China International Modern Agricultural Exhibition
China Agricultural Trade Fair
List Of Manufacturers of Agricultural Machinery in China
1. YTO Group Corporation
YTO Group Corporation is China'sChina's leading farming machinery manufacturing company. It started operation in 1995, and since then, it has progressed into a massive enterprise for supplying agricultural machinery, vehicles, power machinery, construction machinery, etc.
YTO boosts of being the first producers of tractors and road rollers in China. It has been certified as the top machinery manufacturing brand in China. The prime export machinery of YTO Group includes road rollers, tractors, crawler, and wheel tractors, loaders, combine harvesters, diesel engines, and industrial bulldozers. These are exported to clients from around the world.
YTO has various research institutes that specialize in technology and innovation. The company possesses more than fifty years of machinery manufacturing experience, making it the most trusted and reliable company for agricultural equipment production. \
Marketing Network
YTO has been awarded many honors; its products are by excellent international export standards. Moreover, the company is certified by ISO9000, ISO14000, and ISO18000.
YTO Group has a vast marketing network, including more than 100 significant countries across all continents. The company has many overseas offices, spare parts centers, assembly factories in Asia, Africa, and Europe.
Customer Care
YTO has many overseas service centers that provide excellent after-sales services. The company believes in providing exceptional services to build long term relationships and trust of the customers. It also provides a warranty for its products. Acquiring space parts for YTO Group products from its service centers is very convenient.
Main Products:
The major in-demand products of YTO Group include:
Combine Harvesters
Wheeled Tractors
Crawler Tractors
Four-wheel drive Tractors
Two-wheel drive Tractors
3, 4, and 6 Cylinder Tractors
2. Shandong Foton Heavy Industry International
Shandong Foton Heavy Industry International is one of China's leading agricultural machinery manufacturing companies. With possession of total assets worth 4 billion, the annual sales of Shandon Foton increased to 9 billion since its establishment.
Shandong Foton was established in 1998. It has successfully flourished as a verified supplier of supreme quality agricultural machinery. The headquarters of the company is located at Weifang, Shandong.
Certifications and Awards
Shandon Foton has a high reputation for its after-sales services. It has also received many awards for being the most trusted brand in the world. It received certification from ISO9001. Its competitive price and high quality make it stand out in the international market. It has won the following titles recently:
The China resound brand
The China Brand
China inspection-free products
The most competitive brand in the market
Innovation
The cause of Shandon Foton's success lies in its persistence in innovation, research, and scientific development. The company boasts of being the first Combine harvester supplier for an extended period of 6 years. Its rotary drillers, level loaders, and excavators are very popular in the domestic and international markets. Its expertise has made it the most competitive brand in the market.
Marketing Network
Shandong Foton exports its products to more than 85 countries annually. It supplies approximately 7000 premium quality agricultural machines in a year to the international market.
Shandong operates with the strategy to produce innovative technology paired with high quality and low cost.
Main Products
Main products of Shandong Foton include
Four-wheel farm tractor
Agricultural Farm Tractor
Mini tractor.
Self Propelled Harvester
3. Kubota Agricultural Machinery Company Limited
Kubota Agricultural Machinery was established in 1998. It has a new production facility in Suzhou, which is an agricultural equipment manufacturing and sales center. The state-of-the-art research facility is dedicated to research advancements in features of farm equipment manufactured by the company.
Innovation
Kubota Agricultural Machinery has a state-of-the-art research and development lab where skilled personnel works at innovations in technological aspects of tractors, rice harvesters, planters, and the invention of new machinery in the field farming machinery.
Kubota also carries out field examinations and inspections of the agricultural machinery to attain defect-free, high-quality products. The company's main product is its combined harvester.
Marketing Network
Kubota Agricultural Machinery Company has stretched its marketing network to four continents. Thirty significant countries from Europe, Middle East, Australia, and Africa are buyers of Kubota farm equipment in the international market.
4. Hubei Fotma Machinery Company Limited
Hubei Fotma Machinery Company Limited was established in May 2004. It is one of the earliest agricultural and construction machine manufacturers in China. Hubei Fotma is certified by ISO9001 and is one of the leading reputable and trusted machine manufacturing companies in China.
Marketing Network
Hubei Fotma is known for its high-quality machinery. The factory is located at Hubei, Wuhan in China. About 71% to 90% of its manufactured machinery is exported in the international market. It is sold worldwide to significant countries from SouthEast Asia, Australia, Middle East, America, Europe, and Africa.
Customer Service
Customer care is a priority at Hubei Fotma Machinery Company. It'sIt's highly trained staff works tirelessly to provide the best quality products and excellent after sales service to its customers both in local and foreign markets. To continually improve its products' quality, Hubei Fotma has a highly state-of-the-art research facility for innovations in machinery manufacturing.
Main Products
Hubei Fotma has a wide range of agricultural machinery from various types of tractors to sprayers, fertilizers, and whatnot. The main product groups of the company include:
Farm tractors
Wheeled tractors
Crawler tractors
Mowers
Boom sprayers
Fertilizers
Ploughs and harrows
Solar water pump
Tractor implements
Rice/corn/wheat combine harvesters
Fuel pump injection
Casting parts
Shredder types of equipment
Cutting tools
Production Capacity
Hubei Fotma has an annual output value of 5 million to 10 Million US Dollars from 5 production lines. It has an export license and a foreign trade staff of 10 highly skilled individuals. Machinery is shipped from Shanghai Port, China.
5. Weifang CP Machinery
Weifang CP Machinery Company Limited began operation in March 2013. Since then, it has become a trusted name in agricultural machinery manufacturer in China. Today the enterprise has expanded to include 70 highly trained personnel dedicated to developing the world's best tractors and other agricultural machinery. The company is reputed for its competitive prices and premium quality.
Main Products
The chief products of Weifang CP bought by customers in the domestic market and the international market include
Agricultural machinery tractors
15HP to 28HP single-cylinder tractors,
25HP to 50HP TE chassis tractors,
50HP – 60 HP Ningbo chassis tractors,
60HP-80HP TB chassis tractors,
90HP-140HP TD chassis tractors,
140HP-160HP TF chassis tractors,
160HP-180HP TC chassis tractors and
180HP-260HP large chassis tractors
All kinds of farm implements
Wheel loaders
Backhoe loader
Forklift
Agricultural sprayer
Innovation
Weifang CP Machinery Company has over ten years of experience producing high-tech, top-notch, professional tractors and other agricultural machines. Their machines are reputed to be reliable, durable, and advanced in the latest technology. They are constantly improving the features of their popular tractors. Their sincere efforts have earned them respect in the international market.
Marketing Network
The high-quality machinery of Weifang CP is demanded all over the world by significant countries of Europe, South America, Central Asia, and Africa. The marketing network covers over 40 renowned countries globally due to its perfect products and customer services.
Production Capacity
Weifang CP Machinery exports 40% of its products in the international market. The annual production capacity is estimated to about 100 Million US dollars from 7 production lines. It has an export license and ships its machinery from Qingdao port.
6. Jiangsu Yueda Intelligent Agricultural Equipment Company Limited
Jiangsu Yueda Intelligent Agricultural Equipment Company started operation in 2008 at the Yancheng city of Jiangsu Province in China. It is reputed as one of the top three leading tractor manufacturers in China. It specializes in the high, medium, and low Horse Power (HP) series of tractors.
The Jiangsu Yueda Company has an advanced facility for the innovations in techniques and features of agricultural machinery. It fulfills the demand of both the international and the domestic market through its quality products. The quality standards are ensured by a highly trained team of professionals who work in the department of quality control.
It is a trusted company certified by E-Mark Verification. The machinery produced at Jiangsu Yueda is reliable and defect-free. They provide a satisfying experience and are built for power and durability.
Marketing Network
Jiangsu has a huge marketing network that covers over 100 countries of the world. It is sent to significant countries across five continents. Jiangsu offers a wide range of the most suitable tractors and other agricultural machinery like diggers, scrapers, ploughs, harrows, mowers, etc. Its products are sold in Africa, Australia, Asia, Europe, and the middle eastern countries.
Production Capacity
The annual output capacity of Jiangsu Yueda is 50 Million to 100 Million US Dollars. It has two production lines and an export license. Machinery is shipped through Shanghai Port in China.
Main Products
Complete range of four Tractors
Wheel tractors
Grain dryers
Rice planters
Sprayers
Harrows
Hydraulic timber grab
Walking spray