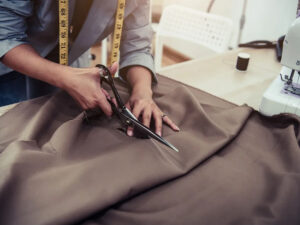 Start A Clothing Line, as part of the basics of starting a clothing company, here are the different costing factors you should consider. It is important to identify costs early to address your clothing business budget.
Introduction
How to start a clothing company is a common question, and if you type those exact words into Google or Quora, you can find tons of answers. But if you want to dig into more specifics about clothing companies, good answers are pretty scarce. From the broadcaster BBC to various celebrities, many have gone through the technical details of making their own clothing. Zara started from a small garage to the current scale, which just shows that clothing is an excellent industry.
Costing Factors to Consider when Starting a Clothing Line
1. Manufacturing costs
This is the main costing calculation that most of your funds will be used for. Manufacturing costs are the core focus of your business plan, which can determine the way you do business and your profitability goals. On top of that, there are also sub-factors related to materials and production processes to consider. Make sure your production costs are in line with your target price. Also make sure to check the cost of production against your niche. Materials and manufacturing costs for sports bras, men's shirts, or baby clothing products vary, so you should consult a professional clothing manufacturer for a reliable estimate.
2. Quantity
Manufacturing costs decrease as the number of orders increases, and this applies to all industrial goods, not just clothing or apparel manufacturing. When you order in large quantities, the factory always charges less (the limit of the entire industry chain). If you plan to produce 500 shirts, if your previous order quantity is 20, then obviously you can save on manufacturing costs. While some custom clothing manufacturers can still achieve such small quantities, there is still a premium. Take a simple example, the same T-shirt, if you order 100 pieces, the unit price needs $10, if you order 100,000 pieces, the unit price can be $1.
However, for startups, it is imperative to test the market and gather feedback. Minimum order quantity is recommended for customization.
3. Location
Manufacturing costs are highly dependent on your manufacturing location, as the labor involved varies from country to country. This is especially important when it comes to small-scale manufacturing. In Western countries, the premium for small quantities and minimum order quantity (MOQ) is much higher. For large manufacturers, labor price differences are more important. This is also the reason why countries like China, Bangladesh and the Philippines have more common manufacturing locations than the US and other European countries. As a simple example, if you order 10,000 pieces/month, I recommend purchasing in China. If your quantity is 200,000 pieces, I suggest you to source in Vietnam. Most of the Southeast Asian countries have imperfect infrastructure, different roads, and frequent power outages. This is a big problem that cannot be solved in a short time.
4. Marketing costs
Many businesses utilize social media as a form of free marketing because it costs you nothing to sign up for a social media account. However, if you want your clothing brand to compete with other well-known brands, then you may need to spend money on a marketing plan.
5. Design costs
Your shirt design is a key factor when starting a clothing line. This is the backbone of your product. A lot of people buy a shirt just because of its print and only care about the quality or comfort of the garment later. This doesn't mean you have to compensate for quality and comfort for your design, but it just shows that you need to spend money on your design to sell your product. Printed shirts are a good product for startups because there is no quantity requirement for printing. Change a different design is a new style.
If you have graphic design skills and do all the shirt designs yourself, you don't have to pay a professional graphic designer or apparel product design agency to do it for you. You can also buy ready-made designs online and make some modifications to make them unique.
6. Licensing or business permit
Registering your business is necessary to legalize your operation. As a private person, you can only legally make so much money (depending on where you live). There are costs involved in getting a business license and the taxes involved when starting a clothing business. However, you have to budget for getting a license and don't let that be a hindrance on how to start a clothing company.
7. Labor costs
No one will advise you to become a one man wrecking crew on how to start a clothing company. You need to have a staff working with you including third-party service people that will be part of your operations. Pay these employees for their worth to expect quality work from them. Employees who are underpaid are the ones who will not work up to the right level expected from them. They allow you to grow. You guys need a group.  
8. Start a website
Today, e-commerce is a must for any kind of business. The low cost and coverage the internet can provide is its greatest advantage as it allows you to have customers beyond your store location and possibly anywhere in the world. You should consider starting a clothing business online in at least some form (not just classic retail). Building a website won't cost you a fortune, or make reasonable use of online platforms like Amazon or eBay.